Shonn Greene was signed to be the two punch to Chris Johnson's one. How did the two players' 2012 seasons stack up?When the Titans signed
Shonn Greene
to compliment their backfield it created a fair amount of buzz in fan circles. On one hand Greene might fill the hole behind
Chris Johnson
and constitute an effective 1 - 2 punch moving forward. On the other hand, people have seen him run and were left unimpressed.
Before we signed him, my knowledge of Greene could have been summed up by the perception that he was decidedly unspectacular. Since he's a Titan, I felt that some digging into his history was merited and decided to start with the somewhat interesting coincidence that both Greene and Johnson had the same number of carries in 2012.
Johnson is known as a boom or bust rusher, Greene does not have that reputation. What would it look like if their rushes were charted next to one another? I charted each rush and it looked like... a jumbled mess.
Before I show you that mess, recognize that it is only so useful to compare players on different teams, with different schemes, asked to do different things against different defenses and helped along by different supporting casts. I recognize this and so should you.
Greene had Sanchez and the circus that continues to be Rex Ryan's squad. Whatever talent he had, it was surely affected and limited by that disfunction. For his part, Johnson had a combination of new Locker, old Hasselbeck, and injured Locker... not to mention an offensive line that started out bad and suffered numerous injuries from there. There is no way to truly account for the differences between these two situations.
This is simply a comparison of what is known, and it is fairly interesting. Greene averaged under 4.0 yards per carry. Johnson averaged 4.5. Green had far fewer negative rushes, however, and Johnson continued to set records for long distance scores.
These two runners are in many ways the epitome of theoretical runners discussed all the time. The comparison is less about merit and more about the difference between those who get paid and those who don't – the difference between explosive and consistent. Greene's services were no longer desired on his team. Johnson's services were retained despite a sizable salary.
If you look at the numbers, does that make sense?
You can see that Johnson had much higher peaks, maybe the most negative rushes between the two as well. Beyond that, there's too much data and too wide a variance between the shortest and longest rushes to really get a feel for what was going on. To get a better look at what was happening, I formatted the chart to a maximum of 20 yards.
This only helped so much.
Because it is sorted by the order that rushes actually occurred, it is hard to get a feel for how often a player ran for X yards... which is really what I am most interested in. I organized the rushes for each player based on length and re-charted. Because there is still a big difference between ninety-four yards and negative eleven, I quickly made another chart to again cap the runs at 20 yards.

It becomes pretty clear when looking at the charts that Johnson not only had the best and worst gains... he had more of them. He lags Greene to start and then passes him by a wide margin towards the end.
I still wanted to see what was happening in the middle of the charts, so I decided to make a separate chart for each quarter of their rushes. By limiting how many rushes were in the chart, I thought I'd get a better feel for things. There are 69 rushing attempts represented in each of the following charts.



These charts helped a decent bit. The two runners are fairly even in the middle half, with Greene jumping to the next level before Johnson. The differences in the first and fourth charts really tell the story. Greene had far fewer negative rushes and far less success in breaking runs beyond ten yards. The vast majority of all his runs are between one and nine yards. Then again, so were most of Johnson's.
To really get a feel, I started summing and counting rushes by length. As it turns out, 79.0% of Greene's rushes were between one and nine yards. This compares to 67.8% for Johnson.
Breaking it out further, 61.6% of Greene's rushes were at least three yards. For Johnson this number was 54.0%. Johnson's bad rushes kept him behind Greene until the six yard mark. Johnson had one less rush of at least five yards than Greene did, but he had sixty-six rushes of at least six yards compared to Greene's fifty-seven.
There are many different thresholds and ways to look at rushing breakouts. Instead of choosing which ones to discuss, I figured I'd just present a series and let people begin their own conversations. Also, because I have previously charted Adrian Peterson's MVP year and the data was available, I decided to include his numbers just to make it interesting.
This first one is fairly self-explanatory.

To create the breakout below, I sorted each player's rushes by length and broke their seasons into four parts. The 25% column shows the highest gain in the lowest quartile. The 50% column shows the highest gain in the second quartile, and so on. There is not much difference between runners, which is fairly interesting.

The following breakout shows the total yards rushed for in each quartile.

This chart shows the cumulative yards rushed for at the given percentage shown. For example, Johnson rushed for a mere thirteen yards on his worst one-hundred and thirty-eight carries.

The next series of breakouts show the same data in three different ways. Each is set up to show the number of carries in a given yardage bucket, what percent of a player's total carries fell in that bucket, how many yards they gained and what their average was on those carries. I think these are the most interesting breakouts.
Note that if a carry went for less than twenty yards, Shonn Greene, (whose ypc was 3.9 on the year), had a better average than the league MVP. Those long runs make a world of difference... in both total yards and total earnings.


As a final series of numbers, and in lieu of making a separate post, below are some charts which show the varying success that Johnson had with
Jake Locker
and
Matt Hasselbeck
under center in 2012. Given injuries and various other factors, this too is more interesting than definitive... but the difference is stark.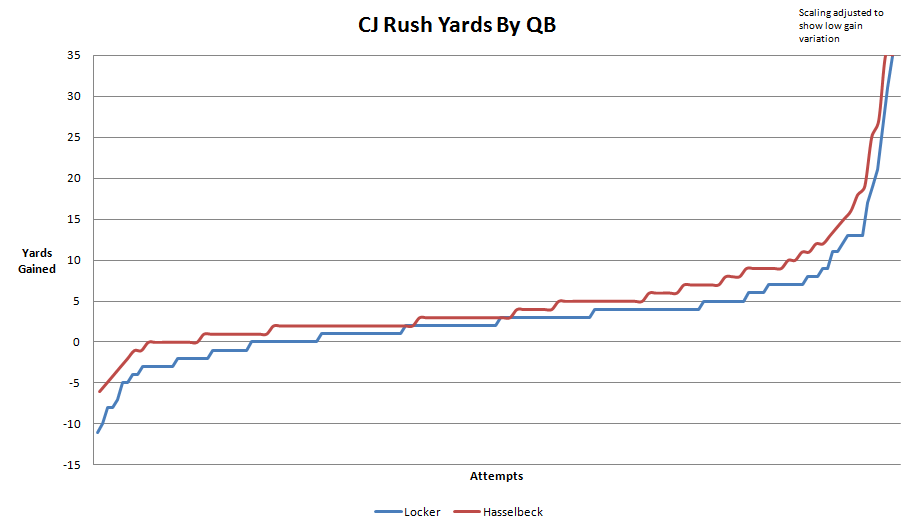 Johnson had sixty rushes for zero or negative yards. Forty-five of them came with Locker in the game. He had thirty-eight negative rushes. Thirty-one of them came with Locker, more than four times as many as came with Hasselbeck under center.
Whatever the difference - veteran savvy, timing of injuries, or focus on the run game at a given point in time - the combination of Locker and Johnson have to perform better together in 2013.
Click here to view the article